This level takes place in a cave. It is one of the hardest levels in the game. It is mazelike with lava pits.

Enemies: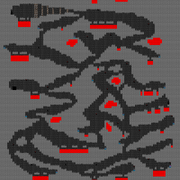 Hazards:
Number of exits: 2
Exit #1: Leads to Level 7-3: Snake-O-Rama!
Exit #2: Leads to Level 7: Is it hot in here or is it just me?
The secret level exit can only be accesed by Blinky, who can destroy the blocks that prevent entrance to the exit.